I am trying to locate a capacitor to replace one that has blown in an air hockey table fan.
The writing on the capacitor states 0.75uF (I think) and has MEA 450VAC written on it. It is yellow, 30mm long, 15mm wide and about 6mm deep. I have not been able to locate a replacement MEA capacitor and rapid electronics could not help. I attach a picture. Anybody know where I could locate one or recommend an alternative to replace it with?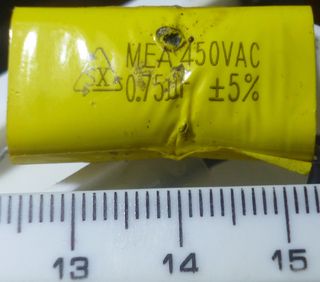 The fan (Model RCH2048S2-C) appears to have an 80W motor and states it is 115V although it has been running on 240V and was supplied with a UK plug. The motor stopped running but will run if I spin it but not at full speed.